Internationally recognized qualifications
ALDAR Academy offers internationally recognized qualifications from the UK. This means that the education and training provided by ALDAR Academy meets the high standards set by the UK education system. The qualifications
are recognized in UAE and by employers and educational institutions around the world, providing learners with a competitive edge in the global job market. All Certificates are recognized in UAE and attested by KHDA-Dubai.
Applied practical education
ALDAR Academy emphasizes hands-on learning. Learners will have the opportunity to work on real-life projects and gain practical experience in your field of study, as ALDAR Academy offers applied practical education to its students, this means that students will not only learn theoretical concepts but will also apply these concepts in real-life situations. The practical approach to education ensures that students are well-prepared for their future careers.
They will be equipped with the necessary skills and knowledge to excel in their fields.
Delivery in either English or Arabic language.
ALDAR Academy offers internationally recognized qualifications delivered in either English or Arabic language. This ensures that language is never an obstacle for learners to proceed in their education and achieve their goals without any difficulties. For programs that are taught in Arabic, the entire learning and assessment process is done in Arabic without any need for any English qualification. And for programs taught in English, learners can fulfill the English
proficiency requirement during the study period.
Best future progression options
ALDAR Academy offers their students the best future progression options available. Learners can join the job market immediately through either direct employment or starting their own business, or they can proceed with higher or vocational qualifications. Graduated students have the option to join more than 200 universities worldwide as a 3 rd year student for a bachelor & degree.
Affordable Tuition Fees with Scholarships
ALDAR Academy understands the importance of providing affordable education to their students. In addition to the affordable fees, they also offer scholarships to eligible students for all the offered programs while maintaining high quality and ethical standards. These efforts ensure that vocational education is accessible to a wider range of students who may not have otherwise had the opportunity to pursue higher education.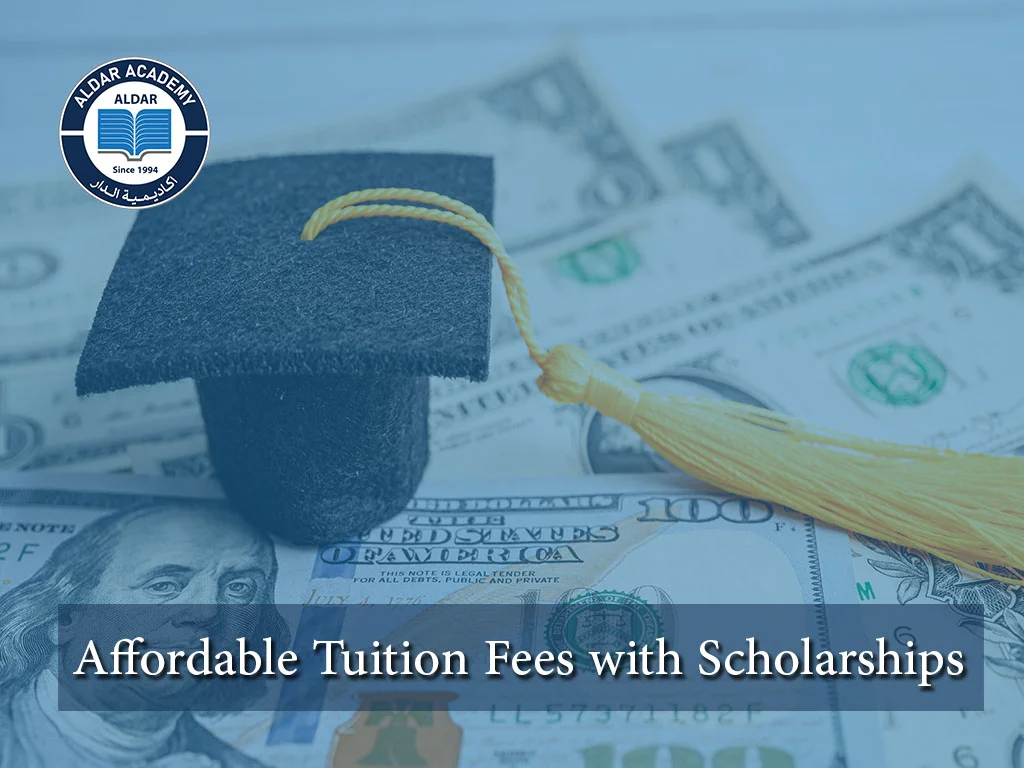 Prime location in the center of Dubai City
ALDAR Academy is in the heart of Dubai & historic business district, providing students with easy access to its premises and is easily accessible by metro. The prime location offers students the opportunity to immerse themselves in the vibrant culture of the city and gain hands-on experience in the field of their choice. Additionally, the location makes it easy for students to network and connect with professionals in their field, opening new opportunities for internships, mentorships, and career advancement.
ALDAR Academy for Vocational Education offers flexible timings to its students. The most common standard timings are morning, evening, and weekend. This means that students can choose the time of day that works best for them. This is especially helpful for students who may have other commitments, such as work or family responsibilities. By offering flexible timings, ALDAR Academy can accommodate the needs of a diverse student population, enabling more individuals to pursue vocational education and achieve their goals.
Industry-Relevant Programs and disciplines
ALDAR Academy for Vocational Education offers practical programs in various disciplines such as Business and Finance, ICT and Computing, Engineering, Art & Media, Health & Safety, Languages, Professional Education, and Fashion Designing. In each department, multiple disciplines are offered to fulfill the interests and needs of the learners. The offered programs are designed to meet the needs of various industries. This means that the skills and knowledge learned will be relevant to the jobs that are currently available in the job market. Additionally, all programs are aligned with the UAE National Agenda and UAE Sustainable Goals.
Equips learners with adequate employability skills and knowledge
ALDAR Academy aims to provide learners with the skills and knowledge necessary to succeed in the workforce. They aim to build relevant skills to coincide with emerging technologies, materials, and systems while ensuring equal access for all types of learners. ALDAR Academy provides career services to help learners with job placement after graduation. This includes resume writing, interview preparation, and job search assistance.
Dedicated, experienced, and passionate educators
ALDAR Academy takes pride in having a team of highly qualified and experienced instructors who provide the best possible learning experience for their students. These instructors possess relevant teaching qualifications as well as extensive experience in their respective fields and have a proven track record of success in the classroom. ALDAR Academy values the professional development of their instructors and invests in their continuous training to ensure that they remain up to date with the latest teaching methods and technologies. As a result, students are provided with an engaging and dynamic learning environment that prepares them for success in their chosen fields.
Focus on Innovation and creative thinking
Teaching creative thinking both upward and downward is an essential pillar of innovation in vocational education. Upward creative thinking involves encouraging students to think beyond what they already know, challenging them to seek out new perspectives and ideas. Downward creative thinking involves breaking complex problems down into smaller components, enabling students to identify and address specific challenges. By teaching both approaches,
vocational education can help students to develop a more holistic and innovative problem-solving toolkit. This can empower students to think critically and creatively, helping them to identify new opportunities, develop more effective solutions, and contribute to a more innovative and dynamic workforce.