Pearson International BTEC Level 5 Higher National Diploma in Business
The purpose of Pearson BTEC Higher National Diploma in Business is to develop students as independent-thinking professionals who can meet the demands of business employers and adapt to a constantly changing world. The qualification aims to widen access to higher education and improve the career prospects of those who hold this qualification.
Academic Requirement:
Grade 12 High school Certificate with Pass Grade or Level 3 Vocational qualification in the relevant field.

English Language Requirement:
Non-native English speakers and who have not carried out their final two years of schooling in English can demonstrate ability at a standard equivalent to:
PTE Academic 51

, or

IELTS 5.5

(reading and writing must be at 5.5)
Total guided learning hours = 960 hours 

Total qualification time = 2, 400 hours Requires 240 credits, of which 

120 credits are at Level 5 (7 units) and 120 credits are at Level 4 (8 units) 

Mix of core, specialist, and optional units, totaling 240 credits
Year 1
Year 2
Co: Business and Business Environment
Co: Research Project (Pearson Set)
Co: Marketing Processes and Planning
Co: Organizational Behavior
Co: Human Resource Management
Sp-Op:Global Business Environment
Co: Leadership and Management
Sp-AC: Management Accounting
Co: Accounting Principles
Sp-Op: Digital Marketing
Co: Managing a Successful Business Project (Pearson Set)
Op: Sales Management
Op: Entrepreneurial Ventures
Op: Business Strategy
Op: Operations Management
Co: Core Unit Mandatory
Op: Optional Unit
Sp-PR: Specialist Unit Procurement and Supply Management
Sp-AC: Specialist Unit – Accounting and Finance
Sp-EN: Specialist Unit – Entrepreneurship and Small Business Management
Op-HR: Optional Unit – Human Resource Management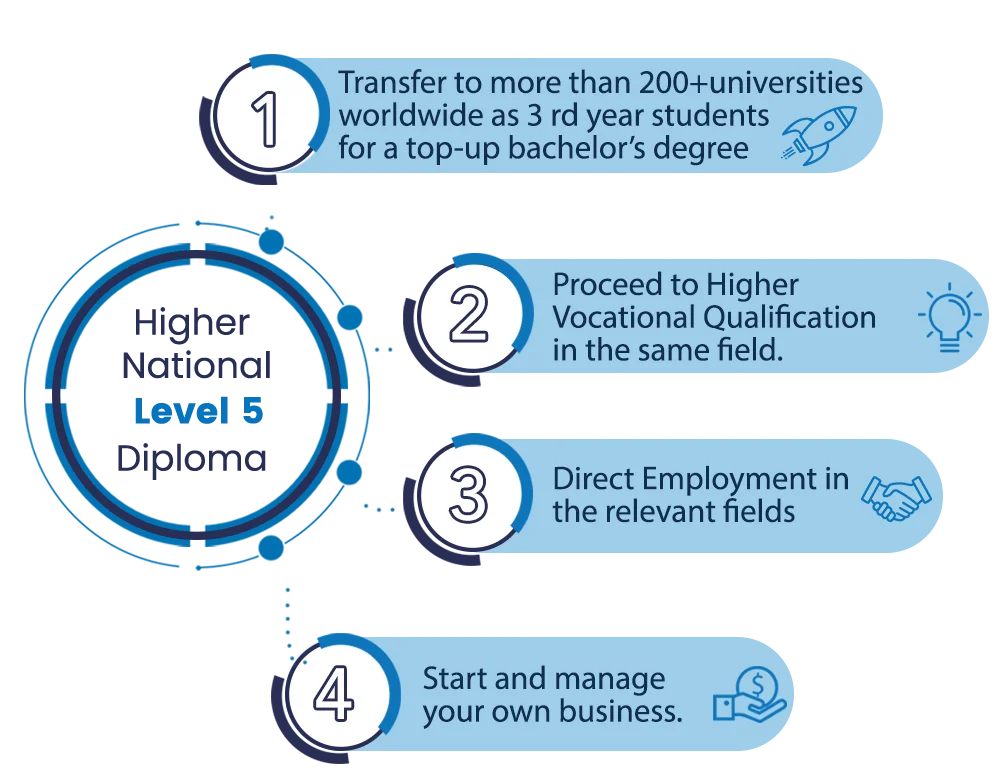 Assistant recruitment manager

HR consultant

Assistant marketing manager

Digital marketing executive

Finance officer

Supply chain executive
Plan to Start Your future ?
Our Experts Ready to Help You