Pearson BTEC Level 5 HND in Business Accounting & Finance
The diploma in accounting and finance is designed to prepare students for entry- level positions in accounting and finance by combining theoretical concepts with practical applications, enabling students to develop critical thinking skills, problem- solving abilities, and communication skills. Graduates of this program may find employment in various industries, including banking, finance, insurance, and accounting firms.
Overall, a diploma in accounting and finance can be an excellent choice for individuals interested in pursuing a career in accounting, finance, or related fields.
Academic Requirement:
Grade 12 High school Certificate with Pass Grade or Level 3 Vocational qualification in the relevant field.

English Language Requirement:
Non-native English speakers and who have not carried out their final two years of schooling in English can demonstrate ability at a standard equivalent to:
PTE Academic 51

, or

IELTS 5.5

(reading and writing must be at 5.5)
Study Plan:
Total guided learning hours = 960 hours 
Total qualification time = 2, 400 hours Requires 240 credits, of which 
 120 credits are at Level 5 (7 units) and 120 credits are at Level 4 (8 units) 
 Mix of core, specialist, and optional units, totaling 240 credits
Year 1
Year 2
Co: Business and Business Environment
Co: Research Project (Pearson Set)
Co: Marketing Processes and Planning
Co: Organizational Behavior
Co: Human Resource Management
Sp-AC: Financial Reporting
Co: Leadership and Management
Sp-AC: Management Accounting
Co: Accounting Principles
Sp-AC: Financial Management
Co: Managing a Successful Business Project (Pearson Set)
Op: Sales Management
Op: Entrepreneurial Ventures
Op: Business Strategy
Op: Operations Management
Co: Core Unit Mandatory
Op: Optional Unit
Sp-AC: Specialist Unit – Accounting and Finance
Op-HR: Optional Unit – Human Resource Management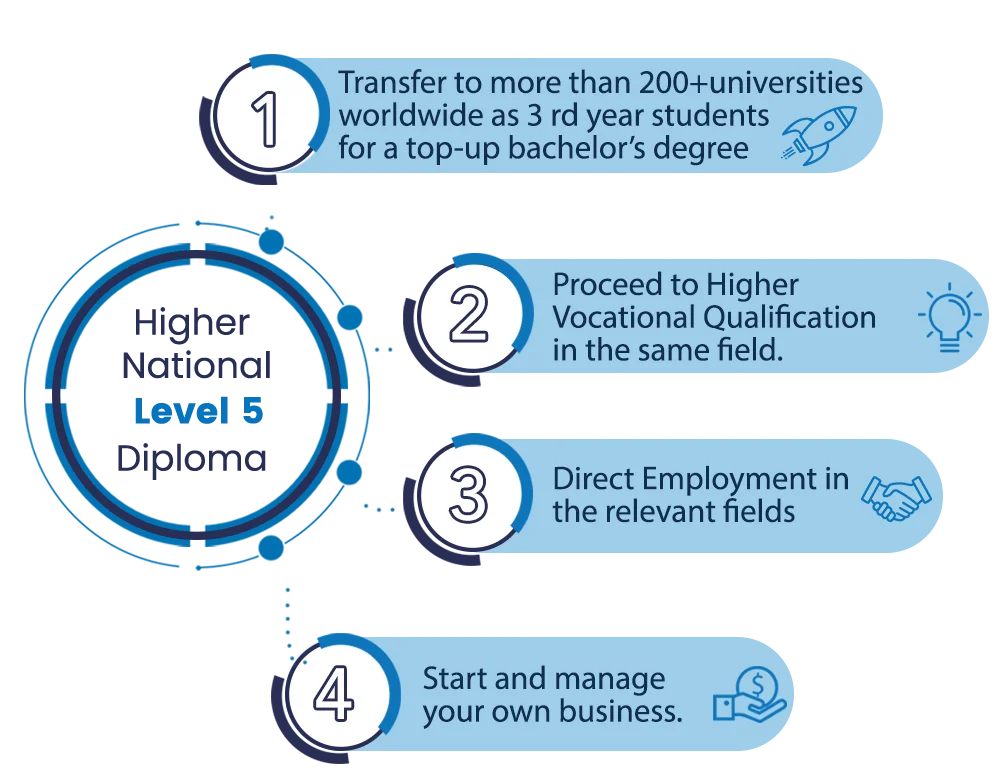 Junior Accountant
 Receivables manager
 Payables manager
 Finance officer 
 Internal auditor
 Tax advisor/practitioner
 Bookkeeper
 Financial analyst
Plan to Start Your future ?
Our Experts Ready to Help You