Pearson BTEC Level 5 Higher Nationals Diploma in Electrical and Electronics Engineering
This Higher National qualification in Electrical and Electronic Engineering has been developed to ensure
students who successfully complete the programme graduate as professional, self-reflecting individuals
who are able to meet the demands of employers in the rapidly evolving engineering sector and adapt to a
constantly changing world. Highly respected by employers nationwide, the HNC brings together a range
of engineering elements, providing those who complete the HNC with a range of opportunities for career
progression, as well as enhancing and widening access to higher level study.
Academic Requirement: 
Grade 12 Highschool Certificate with Pass Grade or Level 3 Vocational qualification in the relevant field.
English Language Requirement:
Non-native English speakers who have not carried out their final two years of schooling in English can demonstrate ability at a standard equivalent to:
IELTS 5.5 (reading and writing must be at 5.5)
Total Guided Learning Hours (GLH) Higher National Diploma (HND) = 960 hours 

Qualification credit value of 240 credits of which 120 credits are at Level 5, and 120 credits are at Level 4

Total Qualification Time (TQT) Higher National Diploma (HND) = 2,400 hours 

There is a required mix of core, specialist, and optional units.
Year 1
Year 2
Core Unit: Engineering Design
Core Unit: Research Project
Core Unit: Engineering Math
Core Unit: Professional Engineering Management
Core Unit: Engineering Science
Specialist Unit: Further Mathematics
Core Unit: Managing a professional Engineering project
Specialist Unit: Industrial Power, Electronics and Storage
Optional Unit: Electrical and Electronic Principles
Optional: Industrial systems
Optional Unit: Electrical Systems and Fault Finding
Optional Unit: Further Electrical Machines and Drives
Optional Unit: Instrumentation and control systems
Optional Unit: Further Control Systems Engineering
Optional Unit: Renewable Energy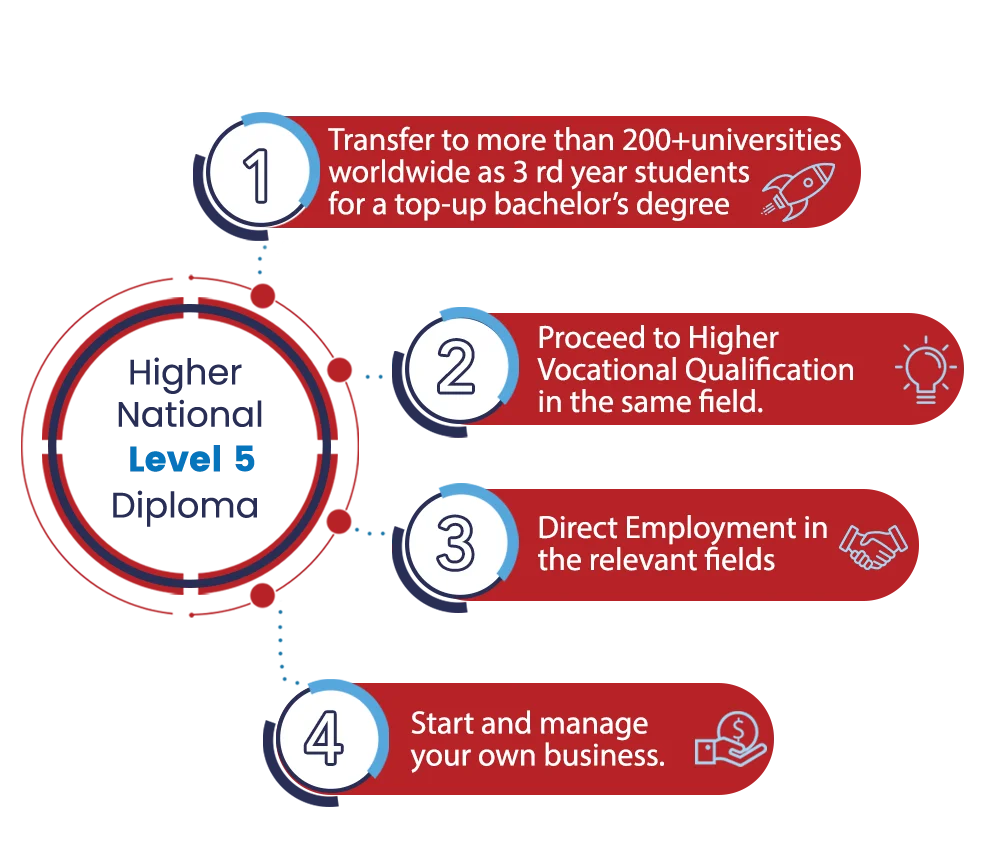 By the end of this program the learners will be able to work as:
Electrical Engineer

Control and Instrumentation Technician

Electrical Control Engineering Technician

Electrical Distribution Designer Technician

Electrical Project Engineering Technician

Electrical Design Engineering Technician

Electrical/Electronic Technician

Electrical/Electronic Installation Technician

Electrical/ Electronic Test Technician

Energy Technician

Entrepreneur

Field Service Engineering Technician

Maintenance Engineering Technician

Service Engineering Technician  
Plan to Start Your future ?
Our Experts Ready to Help You