Pearson BTEC Level 5 Higher National Certificates in Creative Media Production (Motion Graphics)
The Pearson BTEC Level 5 Higher National Diploma in Creative Media Production with a focus on Motion
Graphics is a two-year vocational program that provides students with practical skills and theoretical
knowledge in the area of motion graphics. The program covers a range of topics related to motion graphics, including typography, graphic design, animation, visual effects, and post-production. Students
will have the opportunity to work on individual and group projects that involve designing and creating
motion graphics for real-world scenarios, such as creating promotional videos, motion graphics for
websites and social media, and animated infographics. By the end of the program, students will have a
portfolio of work that demonstrates their abilities and prepares them for employment in the motion
graphics industry.
Academic Requirement: 
Grade 12 High school Certificate with Pass Grade or Level 3 Vocational qualification in the relevant field.
English Language Requirement:
Non-native English speakers and who have not carried out their final two years of schooling in English can demonstrate ability at a standard equivalent to:
PTE Academic 51

, or

IELTS 5.5

(reading and writing must be at 5.5)
Study plan
Credits Required at (L5) : 120 (7 Units) - (L4) 120 (8 Units)
Total Credits on completion the Level 5 : (120+120)=240 credits
Total Qualification Time (L5) : (1200+1200)=2400 Hours and Level 4 (150 x 8 )= 1200 Hours
Total Guided Learning Hours (L5) : (480+480)=960 Hours and (L4)= 480 Hours
Year 1
Year 2
Core Individual Project (Pearson-set)
Core Unit: Collaborative Project (Pearson-set)
Core Unit: Creative Media Industry
Core Unit: Personal Professional Development
Core Unit: Professional Practice
core Unit: Advanced Motion Graphics Studies
Specialist Unit: Motion Graphics Practices
Optional Unit: Sound for Media Products
Specialist Unit: Visual Effects & Motion Graphics Cultures
Optional Unit: Multi-Audio & Studio Live Production
Specialist Unit: Typography
Optional Unit: Podcast Production
Specialist Unit: Audio Practices (Required)
Optional Unit: Audio Books & Audio Guides
Optional Unit: Audio Technologies (Required)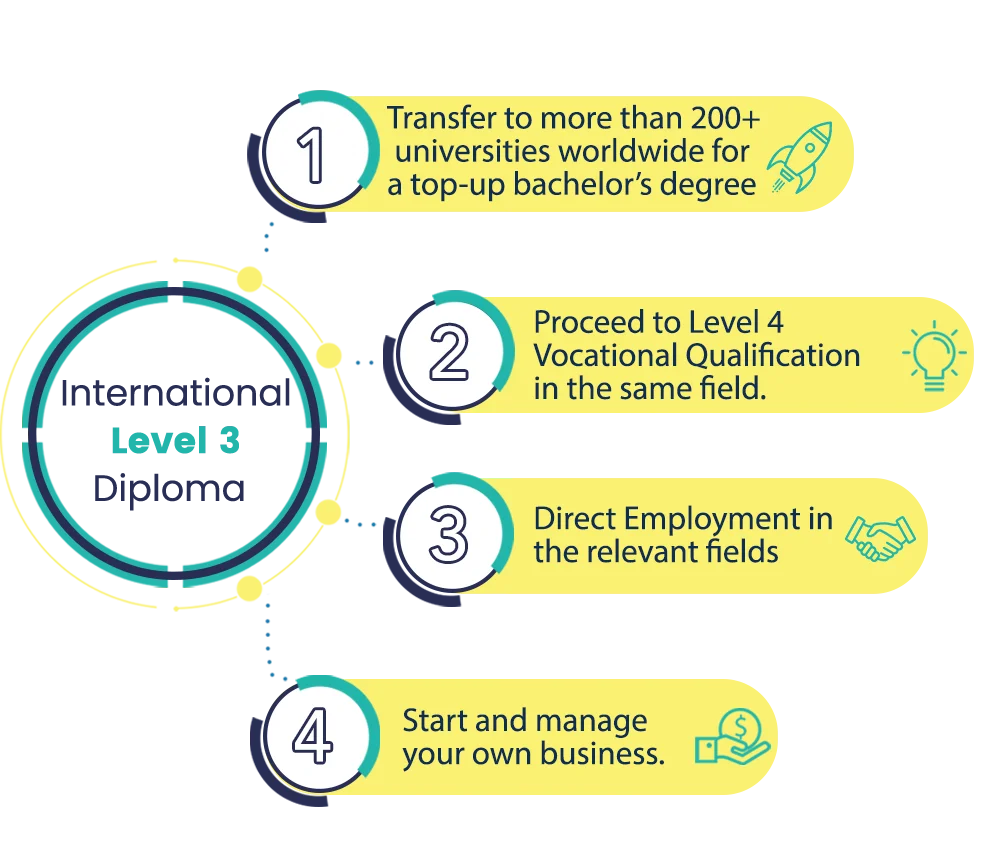 By the end of this program the learners will be able to work as:
Motion Graphics Designer
Video Editor
Visual Effects (VFX) Artist
3D Animator
Multimedia Designer

Graphic Designer

Art Director
Compositor
Plan to Start Your future ?
Our Experts Ready to Help You