Pearson BTEC International Level 5 Higher National Diploma in Engineering (Operations Engineering)
This Higher National qualification in Operations Engineering has been developed to ensure students who
successfully complete the programme graduate as professional, self-reflecting individuals who are able to
meet the demands of employers in the rapidly evolving engineering sector and adapt to a constantly
changing world. Highly respected by employers nationwide, the HNC brings together a range of
engineering elements, providing those who complete the HNC with a range of opportunities for career
progression, as well as enhancing and widening access to higher level study.
Academic Requirement: 
Grade 12 Highschool Certificate with Pass Grade or Level 3 Vocational qualification in the relevant field.
English Language Requirement:
Non-native English speakers who have not carried out their final two years of schooling in English can demonstrate ability at a standard equivalent to:
IELTS 5.5 (reading and writing must be at 5.5)
Total Guided Learning Hours (GLH) Higher National Diploma (HND) = 960 hours 

Qualification credit value of 240 credits of which 120 credits are at Level 5, and 120 credits are at Level 4

Total Qualification Time (TQT) Higher National Diploma (HND) = 2,400 hours 

There is a required mix of core, specialist, and optional units.
Year 1
Year 2
Core Unit: Engineering Design
Core Unit: Research Project
Core Unit: Engineering Math
Core Unit: Professional Engineering Management
Core Unit: Engineering Science
Specialist Unit: Further Mathematics
Core Unit: Managing a professional Engineering project
Specialist Unit: Heating, Ventilation, Air Conditioning (HVAC)
Optional Unit: Operations and Plant Management
Specialist Unit : Industrial systems
Optional Unit: Electrical Systems and Fault Finding
Specialist Unit: Thermo fluids
Optional Unit: Electro, Pneumatic and Hydraulic Systems
Optional Unit: Further Electrical Machines and Drives
Optional Unit: Electrical and Electronic Principles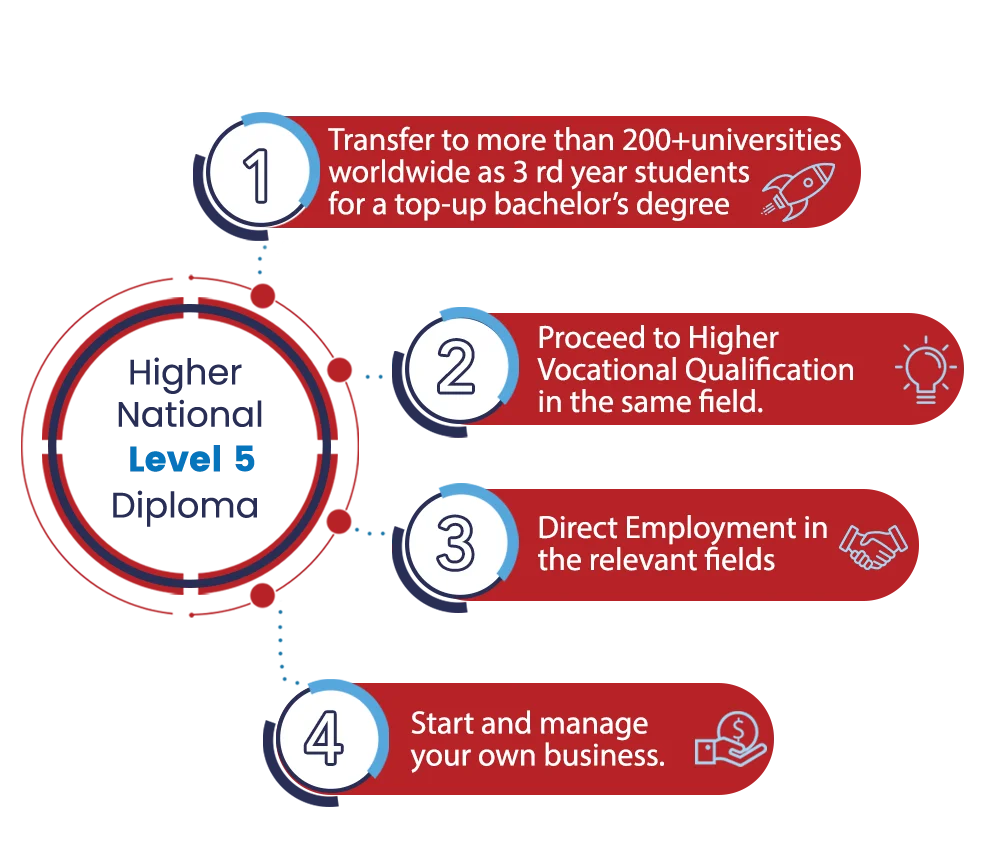 By the end of this program the learners will be able to work as:
Automotive Engineering Technician
Automotive Engineering
Operations engineer
Field Engineer
Production Engineer
Plan to Start Your future ?
Our Experts Ready to Help You