Pearson BTEC Level 5 Higher National Diploma in Creative Media Production (Media Photography)
Media photography pathway in Pearson BTEC Level 5 Higher National Diplomas in Creative Media
Production typically focuses on a combination of practical and theoretical teaching. The course is
designed to provide students with a comprehensive understanding of media photography, including the technical skills needed to produce high-quality photographic content and the theoretical knowledge
needed to plan and execute photographic projects.
The practical teaching in media photography may include workshops, tutorials, and practical
assignments, where students can develop their skills in lighting, composition, editing software, and
visual storytelling. The theoretical teaching may include lectures, seminars, and group discussions,
where students can learn about the principles of photography, media law, ethical considerations, and
critical analysis.
Academic Requirement: 
Grade 12 High school Certificate with Pass Grade or Level 3 Vocational qualification in the relevant field.
English Language Requirement:
Non-native English speakers and who have not carried out their final two years of schooling in English can demonstrate ability at a standard equivalent to:
PTE Academic 51

, or

IELTS 5.5

(reading and writing must be at 5.5)
Study plan
Credits Required at (L5) : 120 (7 Units) - (L4) 120 (8 Units)
Total Credits on completion the Level 5 : (120+120)=240 credits
Total Qualification Time (L5) : (1200+1200)=2400 Hours and Level 4 (150 x 8 )= 1200 Hours
Total Guided Learning Hours (L5) : (480+480)=960 Hours and (L4)= 480 Hours
Year 1
Year 2
Core Unit: Individual Project (Pearson-set)
Core Unit: Collaborative Project (Pearson-set)
Core Unit: Creative Media Industry
Core Unit: Personal Professional Development
Core Unit: Professional Practice
Specialist Unit: Advanced Media Photography Studies
Specialist Unit: Photographic Practices
Optional Unit: Sound for Media Products
Specialist Unit: Studio Photography
Optional Unit: Multi-Audio & Studio Live Production
Specialist Unit: Image Management & Editing Techniques
Optional Unit: Podcast Production
Specialist Unit: Audio Practices (Required)
Optional Unit: Audio Books & Audio Guides
Optional Unit: Audio Technologies (Required)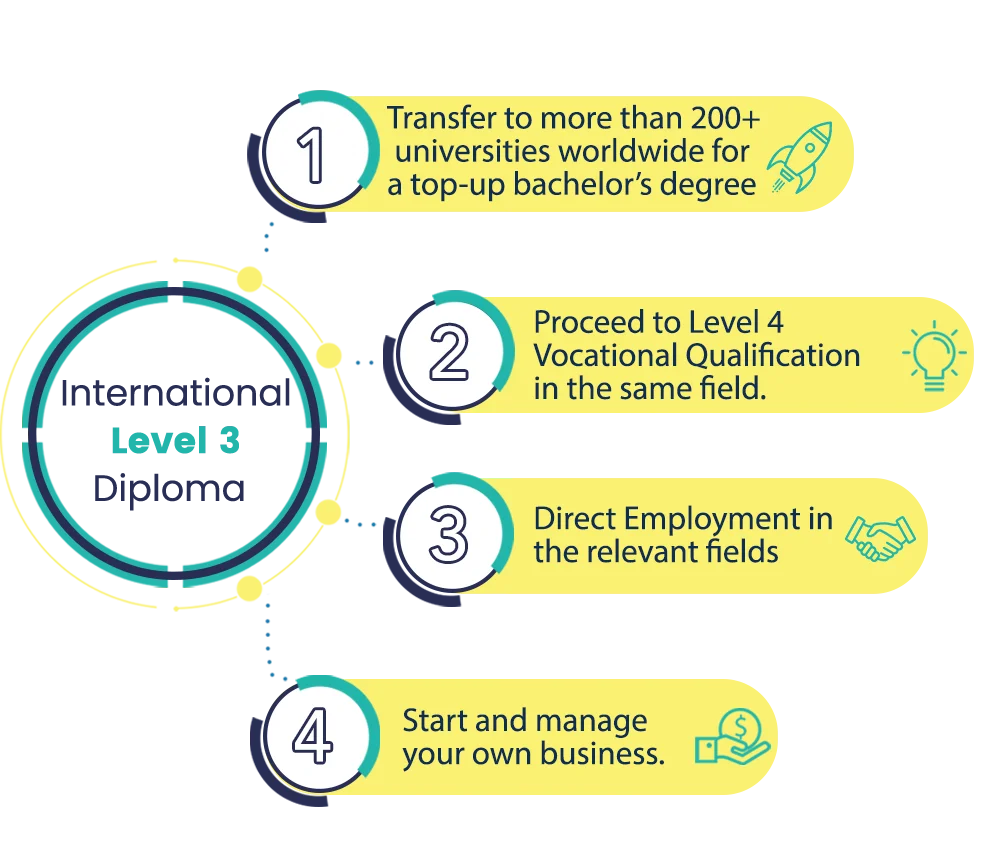 By the end of this program the learners will be able to work as:
 Commercial photographer
 Photojournalist
 Advertising Photographer
 Fine art photographer
 Photo Editor
 Digital marketer
Portrait Photographer
Plan to Start Your future ?
Our Experts Ready to Help You