Pearson International BTEC Level 5 Higher National Diploma in Computing (Data Analytics)
BTEC Higher National qualifications in Computing include enhanced work-related curriculum that is designed to address an increasing need for high quality professional and technical education pathways at Levels 4 and 5, equipping students with the right skills and competencies for the workplace, or progression to further higher education study. 
The purpose of Pearson BTEC Higher Nationals is to develop students as independent-thinking professionals who can meet the demands of employers and adapt to a constantly changing world. The qualifications aim to widen access to higher education and improve the career prospects of those who take them.
On successful completion of this program, students will understand the theoretical foundation of data analytics, data analytic processes and techniques. They will also gain hands-on experience of implementing data analytic processes and techniques using a programming language such as Python, R, or a tool such as Weka, KNIME, Power BI, Excel etc. As a result, students will develop skills such as communication literacy, critical thinking, analysis, reasoning and interpretation, which are crucial for gaining employment and developing academic competence.
Academic Requirement:
Grade 12 High school Certificate with Pass Grade or Level 3 Vocational qualification in the relevant field.
English Language Requirement:
Non-native English speakers and who have not carried out their final two years of schooling in English can demonstrate ability at a standard equivalent to:
PTE Academic 51

, or

IELTS 5.5

(reading and writing must be at 5.5)
Total guided learning hours = 960 hours 

Total qualification time = 2, 400 hours Requires 240 credits, of which 

120 credits are at Level 5 (7 units) and 120 credits are at Level 4 (8 units) 

Mix of core, specialist, and optional units, totaling 240 credits
Year 1
Year 2
Programming
Computing Research Project
Networking
Business Process Support
Professional Practice
Advanced Programming for Data Analysis
Database Design & Development
Machine Learning
Security
Big Data Analytics and Visualization
Planning a Computing Project
E-Commerce & Strategy
Data Analytics
Operating Systems
Website Design & Development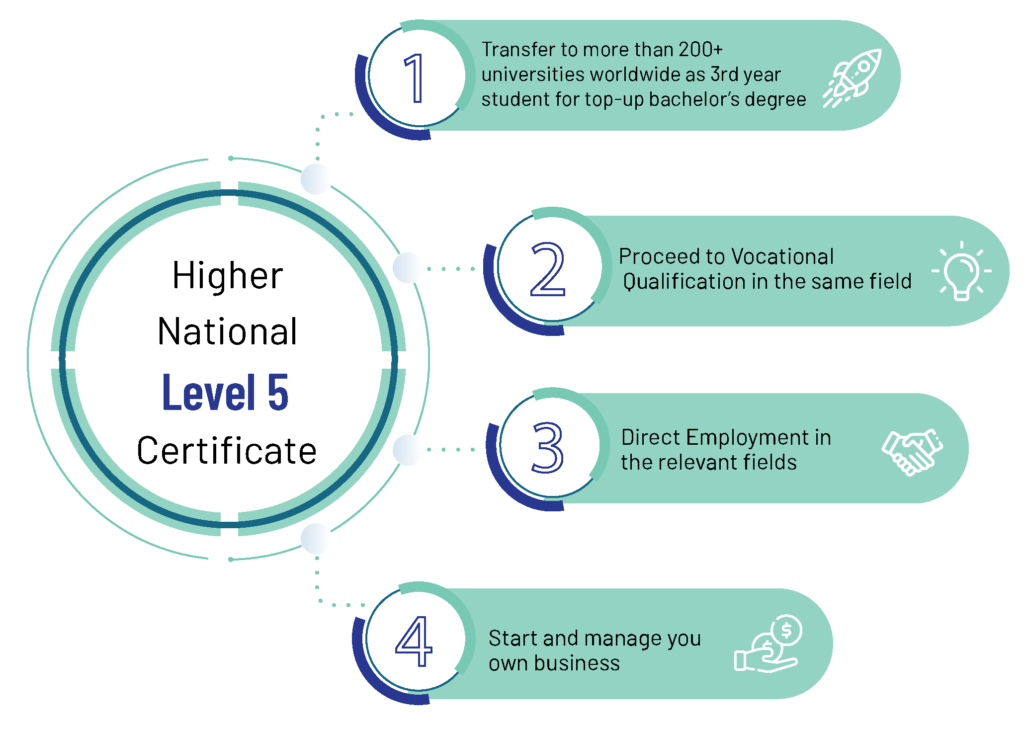 Cloud Computing Specialist

Cyber Security Specialist

Data Security Analyst

Data Analyst

Big data Analyst

Machine Learning Analyst

Data Visualization Specialist

E-Commerce Business Developer

Strategy Analyst
Plan to Start Your future ?
Our Experts Ready to Help You