Electronic Security - Cyber Security
Bachelor of Science in Computer Engineering
Compliance with Electronic Security is a Protection for the Future
Overview of the Concentration
Electronic Security Engineering is an emerging domain that is primarily concerned with protecting computer systems from theft or damage. Electronic Security, engineers play a pivotal role in protecting our privacy, business interests, and infrastructure from any possible automated attacks. You will study courses on cryptography, network security, digital forensics, computer ethics, Internet of Things and mobile devices safe, information security, and ethical hacking.
Importance of Electronic Security
Corporate premises widely use electronic security systems in commercial places and shopping malls.  The electronice devices are sincerely welcomed, as they may be operated from a remote area. These systems are also used in access control systems, fire detection and avoidance systems, and attendance recording systems. We also know that crime rates are increasing day by day, so most people usually do not feel comfortable until they provide a guarantee of their security, whether it be in the office or at home. So we must choose a better electronic system to secure the purpose.
Essential Business Advice to Guard Against Growing Security Threats
Access to information from multiple devices and applications is becoming more and more natural in today's increasingly interconnected world. Users can close security gaps using the right settings, regardless of device, application, or network.
Change the default passwords.
Modify device default settings to ensure that privacy is always maintained and strict encryption methodologies are used to prevent unauthorized monitoring or use of data.
Firmware should be kept up-to-date, or auto-update enabled, if available, to close gaps that may present vulnerabilities.
Always be aware of incoming emails and sites visited, as these may contain unwanted items, phishing malware, or thoughtful attacks.
According to studies, expenditure on the security and protection market in the GCC is expected to increase to $ 10.41 billion by the end of 2022. According to a report prepared by the International Organization for Cybersecurity Awareness, 20% of SMEs have been exposed to cyberattacks. Microsoft is building large-scale intelligence for 300 billion authentication requests and processing them every month. Microsoft also adds several gigabytes of telemetry data to its smart security system, including 1.3 billion Azure Active Directory authentication per day and scanning more than 200 billion malware detection emails each. This compliance is essential for organizations in the UAE because the EU is one of the largest trading partners, and the EU market offers excellent opportunities and opportunities for many companies across the region.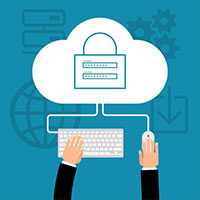 Identify factors driving the need for network security
Identify and classify particular examples of attacks
Define the terms vulnerability, threat, and attack
Identify physical points of vulnerability in networks
Compare and contrast symmetric and asymmetric encryption systems and their weakness
Understand the main components that make up a sound system
Understand the role of electrics and electronics in Security
learn new terminolog
Test fundamental electronic components, connectors, and cables.
Build electric and electronic circuits.
Become professional in the use of appropriate test equipment
Cyber threats appear at all times, creating new and innovative career opportunities. Cybersecurity experts can easily find jobs in many organizations.
 Some of the more common jobs in this field include:
Chief Information Security Officer
Supervise the general operations of a company's or organization's IT security division, and mainly in charge of planning, coordinating and directing all computer, network, and data security needs of their employers.
Information Security Analyst
He/she is responsible for the protection of an organization's computer systems and networks. They plan and execute programs and other measures, including installing and using software for data encryption and firewalls.
IT Security Engineer
Security engineering provides a specialized engineering approach to cyber-security, specifically regarding the design of security systems to counter potentially catastrophic issues.
Security Systems Administrator
A security systems administrator's core responsibilities are quite similar to those of many other cybersecurity jobs: installing, administering, maintaining, and troubleshooting computer, network, and data security systems.
IT Security Consultant
IT security consultants meet with clients to advise them on how to protect their organizations' cybersecurity objectives best efficiently and cost-effectively.
Essential Skills, Tools, and Technology for Cyber Security Careers
Integrity and Discretion
Organizational and Problem Solving Skills
Programming Skills
Understanding of Security Principles
Network Protocols
Malicious Codes and Intruder Techniques
If you liked what you have just read share it with you friends